Allegra Performs Lessons and Carols with the Byrd Ensemble
December 8, 2019 @ 3:00 pm

-

5:00 pm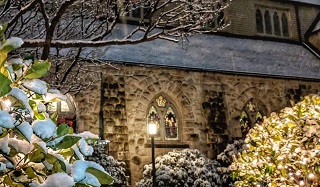 We are so excited for Allegra to partner with the internationally acclaimed Byrd Ensemble again this year to present "A Festival of Nine Lessons and Carols". The general format is that there is a reading from the bible (usually the King James version, as it is an Anglican tradition), starting with younger members of the chorus and progressing "up". The reading is followed by a song by the choir related to the reading, followed by a carol sung by the whole audience. The format dates to 1880, but was popularized by the Choir of King's College, Cambridge in 1918. Since then, the boys and young men of the King's College choir have performed the concert every year on Christmas Eve, except for 1930. In the early 1930s the BBC began broadcasting the concert overseas, even in the middle of World War II when the stained glass had been removed (along with the heat!) from the Chapel for safety.
Lessons and Carols concerts have a long tradition in Seattle and we hope you will make this stunning offering part of your holiday celebration!
Head to the Byrd Ensemble website to purchase your tickets. Tickets will also be available at the door.