Prime Voci in Wales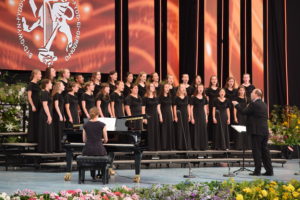 Congratulations to Prime Voci on their 2nd place win in the Children's Folk category at Llangollen International Musical Eisteddfod in Wales! The competition was tough, so we could not be prouder. We were also delighted to learn they came in 6th place, out of 16 choirs, in the Open Choir category. These choirs ranged from our age group to university choirs, adult mixed, men's, and more, so it was quite an honor to score so high. Several of the adult choirs stopped the girls throughout the day to compliment them on their flawless performance.
A big thank you to the staff and judges of the Llangollen International Musical Eisteddfod, all the other performing groups who were so inspiring, and the wonderful people of Llangollen who were warm, welcoming, and kind. What a week it was!
Please join us in congratulating the whole competition team: Jake, Susanna, Stacia, Barb, Hellen, and, most of all, the wonderful young women of Prime Voci. We are so proud of all they have accomplished!
To see high-quality videos of the performances, please visit Llangollen TV.
The Seattle Times wrote an article about our success at the competition.
Cantamus at Kathaumixw
Congratulations to Cantamus on their wonderful performance at the International Choral Kathaumixw in Powell River, BC! Though they did not place in the competition portion, they gave several exceptional performances comprised of very difficult material and of that we are all extremely proud. It was also a very valuable learning experience, especially for many of our girls who had never attended a competition or festival before.
Thank you to everyone at the festival, as well as the other choirs in attendance from around the world, for your warmth and hospitality! And a huge cheer for the Cantamus/Kathaumixw team: Alex, Molly, Cyndi, Kristin, and – last, but not least – all the marvelous young ladies of Cantamus. It was an extraordinary week, a good mix of hard work and laughter, that will be remembered for a lifetime. THANK YOU!