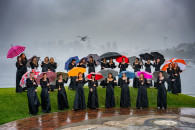 Prime Voci, under the direction of Jacob Winkler, is our most senior choir and is recognized for its vocal excellence nationally and internationally. The choir regularly collaborates with other Seattle area arts organizations and performs at some of the most prestigious national and international choral festivals and competitions.
During the summer of 2016 Prime Voci is excited to make a performance tour of Finland, Estonia, Latvia, and Lithuania.
Founded in 1982 and currently under the artistic direction of Jacob Winkler, Seattle Girls' Choir provides a robust education in the choral arts, helping girls build skills to succeed in life, and enriching the cultural landscape of the Pacific Northwest. A diverse community of girls in grades K-12 comes from nearly 75 different schools in the Puget Sound region to acquire comprehensive musical skills which are designed for each specific age group and take place in a fun and supportive environment.