Our Mission
Seattle Girls Choir provides a robust education in the choral arts, helping girls build skills to succeed in life, and enriching the cultural landscape of the Pacific Northwest.
About Seattle Girls Choir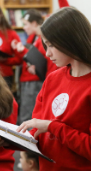 Founded in 1982, Seattle Girls Choir provides a comprehensive and progressive choral education with an emphasis on vocal technique, musical literacy, and ensemble performance. The choir regularly collaborates with other Seattle area arts organizations and performs at some of the most prestigious national and international choral festivals and competitions.
We have six progressive levels of instruction for girls in kindergarten through high school, as well as an elementary school training choir and our contemporary choir for teens. Each choir season's rehearsals run congruent to the school year, September through June. Instruction includes music theory, sight singing, ear training, vocal training, and performance skills.
Yes, it's hard work. But it's worth it. Seattle Girls Choir is where girls come to gain serious music skills, while having serious fun!
Choir Highlights
Awards:
International Youth and Music Festival, first place award – Vienna, Austria
Youth Choir Division: Llangollen International Musical Eisteddfod, first place award – Wales
Children's Folk Division: Llangollen International Musical Eisteddfod, 2nd place award – Wales
Youth Choir & Chamber Choir divisions: International Choral Kathaumixw – Canada: SGC has won 1st place in various categories multiple times they have attended. 1986, 1988, 2000, 2014, 2018
Special Performance Opportunities:
Pacific International Choral Festival (PICFEST) Young Women's Choral Festival – 2016
Salzburg Festival Opening Concert, Salzburg, Austria – July 2009
American Choral Director's Association (ACDA) Northwest Division Convention, Portland, OR – March 2006
Pacific International Children's Choral Festival, Eugene, OR – June 2005, 2007, 2014
World Festival of Women's Singing – Featured Choir, Salt Lake City Feb. 4-7, 2004
Czech Sacred Music Festival, Prague – Featured Choir, 2003
Seattle Girls Choir 20th Anniversary Concert – Benaroya Symphony Hall, Seattle – June, 2002
World Festival of Women's Singing (Americafest) – Co-host choir with Elektra – 2001 concerts at Town Hall, St James Cathedral and Benaroya Symphony Hall, Seattle
ACDA National Convention, San Antonio, TX – March 2001
Mass at St. Peter's Basilica & Concert at St. Ignatius in Rome – July 2000
Portland International Children's Choir Festival – "Featured American Choir" – 1998
Harvard University Festival of Women's Choirs – 1996
International Choral Sympaatti – Tampere & Helsinki, Finland – 1990
Goodwill Arts Festival: "Soviet-American Yourh Choir Concert" – 1990
Music Educators National Conference (MENC, WMEA) – National convention, Anaheim, CA – 1986
Hosted some of the world's finest young choirs in Seattle (the Moran Choir of Israel, MaedchenChor Hannover, the Tapiola Choir of Finland, the Shchedryk Choir of Ukraine, and many others!)
National & International Tours:
European Concert Tours: 1985, 1987, 1990, 1992, 1998, 2000, 2003, 2006, 2009, 2012, 2016, and 2022
AmericaFest 1994: America's first traveling multicultural choral festival. One of four Founding Choirs (the others were Tapiola Choir of Finland, Efroni Choir of Israel and Schedryk Choir of Ukraine.) Concerts in Minneapolis, Des Moines, Chicago, Grand Rapids, Toronto, Quebec City, the Maritimes and New England.
Millennium Jubilee Cathedral Tour: Prime Voci sang in cathedrals and churches in Vienna, Salzburg, Munich, Venice, Ravenna, Siena, Florence and Rome (at the invitation of Pope John Paul II) in the summer of 2000. This was a great experience for us as a non-sectarian community choir!