In a few weeks, Cantamus and Prime Voci will be competing in international music festivals. I thought folks might be curious to know a little about the history of these competitions, as well as their place in Seattle Girls Choir's history.
Llangollen International Musical Eisteddfod
Wales has a long tradition of local music festivals called Eisteddfodau, dating back to at least 1176. The national Eisteddfod is the largest music and poetry festival in Europe, with some 6,000 competitors and over 150,000 visitors each year. These are primarily Welsh events, however: In 1950 there was even a rule that stated that all competitions must be held in Welsh, except for settings of the mass in Latin.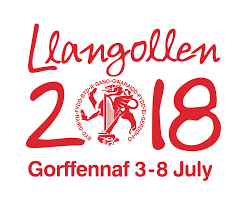 In 1943 Harold Tudor, an officer of the British Council, arranged for members of governments in exile from the war to visit the Welsh National Eisteddfod. Towards the end of 1945 he proposed that the National Eisteddfod add an international component starting in 1947, but the Council of the National Eisteddfod were too focused on rebuilding the national event after the war. Tudor modified his proposal into an independent event, which was championed by representatives from the town of Llangollen (Pronounced something like "Thlang-gaw-thlen" because, you know, Welsh!).
Despite some initial concerns about whether any of the overseas competitors would actually show up thanks to a railway strike in France, the first Llangollen International Musical Eisteddfod was held in June 1947, and has been going strong for the past 71 years, with over 300,000 competitors from 100 different nationalities.
International Choral Kathaumixw
The International Choral Kathaumixw is held every other year in Powell River, B.C., about 80 miles (by air) north of Vancouver, on British Columbia's "Sunshine Coast".

The festival was started in 1984 by Don James, the head of the Powell River Academy of Music, who had recently attended the Llangollen Eisteddfod with the Powell River Boys Choir. He was hiking with a friend and was struck by British Columbia's beauty, and thought "why couldn't we do that here?". The name is a Coast Salish word meaning "a gathering together of different peoples."
Held every other year, the festival hosts about 1,200 singers from around the world.

Seattle Girls Choir in Competition
In 1985, just a few years after it began, the Seattle Girls Choir participated in its first international competition, Jungen und Musik im Wien (Youth and Music in Vienna, aka the International Youth and Music Festival). This was the first time the organization encountered the European "Youth Choirs" division, which is ages 16-25. It's an awkward division for our high school aged singers: Some of our members are younger than 16, and it also places them in the same category as more mature college and post-grad age choirs. Dr. Wright was able to sweet talk the Festival Committee into letting the younger girls compete, though, and the group went on to tie for first place with the Kingsbury High School Choir of London, led by Diana Kiverstein.
The following year, SGC attended the second ever Kathaumixw festival and competed in multiple events. The SGC Intermediate Choir, led by Elizabeth Widdison, got an honorable mention in the Children's Choir division, and Dr. Wright led the Advanced and Chamber choirs, taking 1st place in the Youth Choir division (again, against college age choirs), 2nd place in the Contemporary Music division, and another 1st place in the Chamber Music division. In fact, in the Chamber division the judges announced that "The performance of the Seattle Girls' Choir Chamber Singers goes beyond competition into the realm of high choral art," and that they would not be awarding a 2nd place. Amazing praise, indeed, though one can't help but wonder what was going through the heads of the other competitors!
Following their success at Kathaumixw, SGC was restructured into more or less the model we use today: The Chamber Singers were enlarged and renamed Prime Voci (first voices), the Advanced Choir became Cantamus, the Intermediate Choir became Allegra, the Training Choir was named Vivissimi, and the Preparatory Choir became Le Dolcine.
In 1987 SGC went across the pond again to take on what was then regarded as the "Olympics of Choir Festivals", the Llangollen International Eisteddfod. Also in attendance was the choir from Kingsbury High School that SGC had tied for first place with in Vienna two years earlier. Right before the competition, the conductor told Dr. Wright, "I told my girls to sing for their lives, once I learned you were coming!" SGC won the day, though, taking home the first prize again (Kingsbury took 3rd, and 2nd was won by the Dublin Girls' Choir, so girls' choirs ended up dominating the Youth division that year!).
Following this success, there were a few more visits to Kathaumixw by Cantamus in 1988 and 2000 (where they took 2nd in the children's choir division), but for the most part SGC decided to take a break from competitions, focusing instead on concert tours.
SGC Returns to Competition
When I took over the Artistic Director position, Prime Voci was touring every three years, and always to Europe. This meant that approximately half the group would tour twice, as a freshman and again as a senior, and the other half only once. Half the group got amazing opportunities for travel abroad, and that same half had families being asked to spend a lot of money twice in the few years leading up to college! I started looking for ways of increasing the frequency of those opportunities so that everyone had roughly the same travel experiences, and also for ways of reducing overall costs.
The approach we took was to move to a two-year schedule, and alternate a big, grand tour with something perhaps a little closer to home and smaller scale. Around the same time, I was having conversations with some of the women who had been choristers in those early days, and the competitions were still a shining moment for them all these years later. With that in mind, Prime Voci applied and was accepted to the 2014 Kathaumixw festival.
We competed in three categories: Youth Choir, Contemporary, and Chamber (with an octet we formed specifically for that purpose called Ottava). We were thrilled to take home the first prize in the chamber category, though ultimately I felt that breaking the group up in that way undermined the unity I feel is so central to the choral experience. Perhaps more importantly, we discovered that the festival atmosphere of the competition had other things to offer us.
On a concert tour, we typically travel for about two weeks. We fly into a city, stay there a few days and do a concert or two, then bus to a new city and do the same. It's thrilling to constantly be exploring new places and singing in new venues, and it's not an experience I ever want to give up. At the festival, on the other hand, we stayed in a single hotel the whole time… But we also got to listen to and interact with dozens of other choral groups. Some were fairly forgettable, but some were breathtakingly inspirational, and that is not something we usually get from a more traditional concert tour.
2016 saw a return to a larger concert tour again, this time to the Baltics states of Estonia, Latvia, and Lithuania, with a brief stop in Finland for good measure.
Now, in 2018, Prime Voci will be heading to Llangollen, Wales, for the first time since 1987. At the same time, Cantamus will be attending Kathaumixw in British Columbia. We hope to bring home some trophies to add to our collection, but win or lose it is an honor simply to be accepted, and I for one will be perfectly satisfied if we sing our best and show the world what we're capable of!
Jacob Winkler
Artistic Director