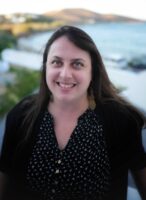 Seattle Girls Choir is excited to welcome Sarra Sharif Doyle into her new role as our Artistic Director! Sarra was chosen from a set of gifted candidates after a national search, and it was her dedication to achieving high quality results with students of all ages, her commitment to SGC, and her extensive professional experience in the choral world that set her apart.
As Board President Julia Engel states: "We are delighted to welcome Sarra to her new role as Artistic Director. Sarra truly embodies the musical excellence for which SGC continues to strive. She is well prepared to continue SGC's legacy of producing exceptional music and forming exemplary young singers."
Many of you will know Sarra as the director of our Allegra ensemble, and a former director of Dolcine. What you might not know is that Sarra is also an alumna of the program, and thus deeply understands its impacts and importance to our choristers. Sarra received an M.A. in Music Education from Columbia University, and a B.M. in Music Education from University of Washington. She has taught in public educational settings for over a decade, and holds professional affiliations with Washington Music Educators Association, American Choral Directors Association and the Northwest Kodály Educators. As a professional singer, Sarra performs regularly with the Byrd Ensemble, Tudor Choir, and Pacific Northwest Ballet Orchestra.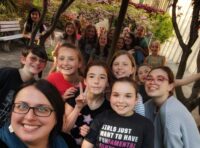 "I am so excited to begin my work as Artistic Director of the Seattle Girls Choir," Sarra says. "Many years ago, when I was eight years old, I auditioned for SGC. Little did I know then, it was one of the best decisions of my life. I would not have the friends I have — that are as good as family — nor would I have the husband I have, or the career I have, were it not for my time making music in SGC. And, more existentially, I wouldn't have the rich connection with music that gives my life color and depth. All this to say, I deeply understand the life-changing power of choral music and consider it my personal calling to transform the lives of young people in this way. It is my dream to partner with Meaghan and the Board of Directors to lead SGC into its next phase. I'm looking forward to a wonderful upcoming season and many more ahead!" 
Sarra will dive into the Artistic Director role this month as we prepare for the start of our fall season. Sarra will begin to lead Prime Voci, and will maintain her direction of Allegra. She will also oversee our entire educational and artistic program, and work with our faculty and staff on SGC's curriculum, concert planning, and community engagement
Jake Winkler, Artistic Director Emeritus, wanted to pass on this note: "I am thrilled that Sarra will be taking over as SGC's Artistic Director. From the moment I started planning this transition I have been thinking that she would be a fantastic successor, and I am so glad the hiring committee came to the same conclusion. In addition to her excellent musicianship and gorgeous vocal model for PV, Sarra brings with her a deeply rooted love for the organization. SGC is where Sarra grew up, and it was her experiences here that led her to devote her life to music. I know she is as passionate about SGC's past and traditions as she is about its future, and I can't wait to see where she takes it next. Congratulations, Sarra!"
Please don't hesitate to reach out with any questions to [email protected], and watch your email for chances to get to know Sarra in her new role!
Thanks so much,
The SGC Board of Directors and Meaghan Leferink, Executive Director