Tuition
Our annual tuition can be paid by the season, semester, or month as determined by each parent.  Tuition varies by choir level and ranges from about $130/month for Dolcine's 1.75 hour weekly rehearsal to $230/month for Prime Voci's combined 5 hours of weekly rehearsals. Tuition for Allegra, Cantamus, and Prime Voci includes a portion of the summer choir camp tuition which is part of the season's curriculum for each chorister.
The tuition for the 2019-2020 year is below: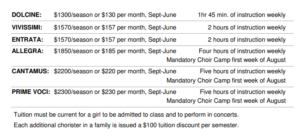 Financial Aid
Seattle Girls Choir is committed to providing exceptional music education and performance opportunities for girls in the Puget Sound region.  Therefore we offer Financial Aid to those families that need assistance in order for their daughter to continue to participate in our program.
Financial Aid requests are typically submitted at the start of each choir season.

Please email our
Office Manager
for an application form.
Additional Information
Additional costs associated with participation in SGC include:
A one time, refundable, uniform deposit of $75

Concert tickets

Festival or Tour costs (Prime Voci and Cantamus)

Offsite retreats for intensive rehearsals
In order to remain an accessible option of families, we do not charge tuition at a rate that would cover the full operational cost of the organization. As a nonprofit organization, we do therefore participate in fundraising initiatives during the year that we request families participate in to the extent they are able.